In the part 1 you have learned that your psychic abilities are defined by the planetary alignment at the moment of your birth and there is a scientific explanation for them.
(Part 1 - get the recording  here) or BUY THE ENTIRE 3 PART COURSE AND SAVE MONEY
In the Part 2 You have learned 3 amazing science based ESP techniques that enable you to improve your life as well as lives of people you get in contact with. 
(Part 2 - get the recording here) or BUY THE ENTIRE 3 PART COURSE AND SAVE MONEY
Learn more and practice using your ESP based skills and new techniques as well as a bit of astrology to improve your life and get answers you want. 
Join us for an exciting Part 3:
3.5 hour Live Webinar - on Sunday, October 28, 2018, at 3 pm EST. 
(CHECK YOUR LOCAL TIME HERE: http://www.timebie.com/std/edt.php?q=12)
During this 3.5 hour online workshop you will:
- practice what you have learned in Part 1 and Part 2;
- learn astrology and ESP readings ethics code;
- learn ESP safety protocol;
- learn more ESP techniques;
- learn remote aura evaluation and healing technique;
- validate your own ESP skills and readings;
- get your questions answered with mixed techniques;
- and more.
NOTE: Submit your chart ahead of time if you are interested in a mini-reading during the workshop to nadia@physicsofastrology.com 
BUY THE ENTIRE 3 PART COURSE AND SAVE MONEY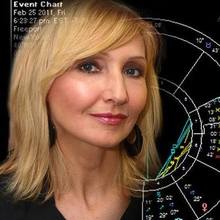 Science Based Astrologer
Nadia Smirnova-Mierau
Nadia, an experienced astrologer, psychic, writer, and speaker with a scientific background, has studied and practiced astrology for more than 30 years. Her psychic ability includes, but is not limited to, predictive dreams, lucid dreaming, clairvoyance, and clairsentience. A former nuclear physicist from the USSR, she applies her knowledge of physics to her work in astrology and the psychic realm. Author of "Physics of Astrology" e-book series (amazon.com/author/nadia), she's a member of NCGR since the 1990's, a member of the Organization for Professional Astrology (OPA), and an agent at Cosmic Intelligence Agency (C*I*A).Website:  Physicsofastrology.comYoutube: https://www.youtube.com/c/PhysicsAstroFB Page: https://www.facebook.com/physicsofastrology